Many of 0ur patients, especially those who have never experienced acupuncture, have questions about the efficacy of our methods. As it turns 0ut, many western MDs are now practicing Chinese medicine, and now a group of them have put together a website where they will be aggregating studies that prove acupuncture's effectiveness for many different disorders.  The site is http://www.evidencebasedacupuncture.org/, and we intend to be checking it regularly!
After many months of careful deliberation, I have decided that it's time I put out a formal note announcing my rates and a few policies I will not only be implementing but actually enforcing beginning July 1.  The following policies will only be news for a small percentage of you, but it feels important that I put this in writing to be clear.
Rates
New patients / first visit:  $120
Established patients / after first visit:  $90 per session
Again, for most of you, this is not news.  But for those of you who have not been in for some time, you may have had a lower rate in the past.
I have changed my rates twice in the past ten years:  Once, when I first started in the Lafayette office and was taking over the space from another practitioner who charged each patient a different fee, sometimes each time they came in; and again, almost four years ago, when my established patient fee went up 8%.  The only differences now are that (1) I now have a new patient/first visit fee, like all of my fellow practitioners; and (2) I will no longer be able to offer discounted treatments below my standard fee of $90 per treatment.
Kaiser No More
For the past 12 or so years I have been a credentialed Kaiser provider for members whose service area includes Oakland up to Richmond.  (Each service area has different policies and credentialing where acupuncture is concerned.)  In fact, I was one of the first acupuncturists in the Kaiser system.  I have had a great experience working with Kaiser and have especially enjoyed the patients Kaiser has sent my way.
Unfortunately, due to some antiquated Kaiser policies, it is no longer feasible for me to see patients referred by and paid by Kaiser insurance.  In fact, at this point, it almost costs me money each time I see a patient referred by Kaiser.  I have run my concerns up the Kaiser chain of command, and what it comes down to is that, with the exception of those who are currently in the middle of a course of treatment and/or are worker's compensation cases, I will no longer be taking patients referred directly by Kaiser.
(As an aside, I happen to be a Kaiser member myself and have found many of their services quite exceptional.  They were also one of the first insurance companies, and the first HMO, to include acupuncture in their health plan, so I have no ill will here.)
Non-Kaiser Insurance
While I continue to take a limited number of worker's compensation cases, I do not bill insurance companies.  I am happy to print out an invoice with all of the necessary coding such that you may send it in to the claims address on the back of your insurance card to be reimbursed by your health care plan directly.  Many of my patients have been doing this successfully for years.  I am also happy to print out summaries of your visits at any time, including year-end summaries for tax time.
Missed Appointments
Like most practitioners, hair dressers, massage therapists and the like, I will charge people who do not show up and/or give less than 24 hours' notice for a cancelled appointment.  I have never been one to aggressively enforce this policy, but I'm turning over a new leaf, and will now be billing the full fee for a missed appointment.  I don't love doing so, but, in light of my current waiting list, missing an appointment or cancelling at the last moment makes it difficult for me to get someone else to take that spot.
Reasoning Behind These Policies
As most of you know, my highest priority is to provide each of you with the best, most effective, most appropriate health care that I can.  That means focusing intensely on each issue and sharing every resource I know of to attend to your concerns.  (That may also mean telling you that acupuncture won't work for a given condition, and checking out other allied practitioners or suggestions instead.)  I am proud of the work I do, and I want to continue doing my best and giving my all.
I have been extremely fortunate to have built a thriving practice from your referrals and Yelp reviews, and as a result, I am now busy beyond my wildest dreams.  So busy, in fact, that I am concerned about my quality of care dipping below a level with which I feel comfortable. It is my hope that, by formalizing and enforcing these simple policies, I will be able to keep my workload at a level that allows me to continue providing the care that has earned me your trust and confidence.
If you have any questions or concerns about anything I've written here, please feel free to contact me directly at 925.283.3860, or via email at jaluban@gmail.com.
Introducing:  Benjamin Dierauf, My New(ish) Officemate
Since the middle of 2013, I have added a new colleague to my office on Mondays, Fridays, and every other Saturday.  Benjamin Dierauf  has worked in Chinese medicine for over 20 years, including long stints as the head of our state acupuncture association.  He is well known by acupuncturists all over the country (he was even named "Acupuncturist of the Year" for the whole U.S. a few years ago), and has primarily worked in Berkeley and San Francisco as the head of student clinics in acupuncture schools and in private practice.  He is now building a practice here in Lafayette, and is my go-to guy when I am unavailable, or when I need treatment myself.  To learn more about Benjamin or to schedule an appointment with him, click here to go to his website Benjamindierauf.com; email him at bdierauf@gmail.com; or call him at 925.297.4785.
While I'm At It…  Other News
Some of you have wondered what I do on the days when I am out of the clinic.  I am a consummate multi-tasker, and have been working on a topical orthopedic salve based in traditional Chinese kung fu medicine.  After many years of trial and error, we believe we finally have a formula that will provide safe, effective pain relief to a wide variety of people with varied pain-related complaints.  We call it Kung Fu Goo, and it's currently being used by the Oakland Raiders, as well as other sports teams and active individuals.  My dream is to take it out of my kitchen and make it available to a much wider audience.  The latest updates on "The Goop:"  We have a trademark, a patent pending, and students in the Michigan State University Packaging Department have taken on our packaging design as their senior capstone project.
Beyond that, I have also been teaching continuing medical education courses for doctors, chiropractors, physical therapists, nurses, acupuncturists, and others around the country on select weekends.  The subject matter is non-verbal medical communication.  I recently spoke at Northwestern Medical School as part of the International Conference on Communication in Healthcare, and will speak in a few months at the California Physical Therapy Association's annual meeting.
Josie Update
Most of you have met Josie Carnita, the small black lab who keeps watch over the office while I'm there.  (Okay, she sleeps in the office, and is not much of a guard dog.)  For those who haven't been by in a while, you should know that she is still alive and well, in spite of slowing down and going somewhat deaf of late. She is somewhere between 13 and 14 years young now, and though we had a cancer scare with her a few months back, she's doing very well now and is always happy to see you.  Feel free to come by and pat her on the head any time (still free for a limited time).
(From HealthCMI.com)
Researchers conclude that ear acupuncture effectively reduces anxiety. The research team initiated the new investigation based on prior studies demonstrating that ear acupuncture reduces anxiety prior to dental treatments, surgery and during ambulance transport. The research team discovered that ear acupuncture exerts "a specific and measurable effect" on anxiety levels.
Ear acupuncture, formally referred to as auricular acupuncture by licensed acupuncturists, involves using either standard filiform acupuncture needles or special auricular acupuncture needles. In this sham controlled trial, auricular acupuncture needles of 1.5mm length were inserted and retained for a total of 20 minutes and then removed. Sham needles were applied to patients in the control group. Looking at the photos below, one can see that the sham auricular needle does not have a penetrating tip. The needles are so tiny that they are affixed to the outer ear with an adhesive backing attached to each needle. In this study, Dongbang Acuprime brand auricular needles of a 0.22 diameter and 1.5mm length were used. Electroencephalography, a recording of brain electrical activity, was used to measure the depth of sedation.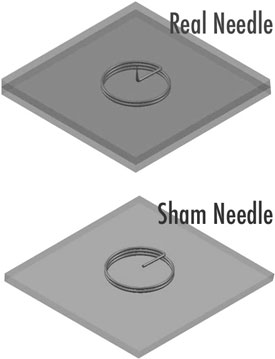 The researchers documented both anti-anxiety and sedative effects of true ear acupuncture. Sham ear acupuncture did not produce a significant reduction in anxiety levels or induce a sedative effect. Electroencephalograph (EEG) measurements taken using the Bispectral Index System (BIS) confirmed the results. The sham versus true acupuncture results confirm that the placebo effect was not responsible for the therapeutic anti-anxiety effects of the auricular acupuncture. The researchers note, "When comparing the effects of real and sham needles, it was noted that there was a significantly higher reduction of
anxiety in the real-needles group" for both the NRS (Numeric Rating Scale) anxiety score and the STAI-Y (State-Trait Anxiety Inventory) score. BIS values "were significantly reduced during the real-needles application" at the10, 15 and 20 minute measuring points. The BIS (Bispectral Index System) encephalography device used in the study is depicted below.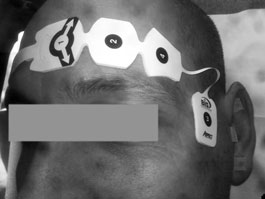 In related acupuncture continuing education research, investigators concluded that acupuncture relieves generalized anxiety disorder (GAD), a condition characterized by excessively intense and debilitating chronic anxiety. The researchers note that acupuncture has a fast effective action and high compliance. In addition, acupuncture has a relatively minimal risk of side effects compared with drug therapy. The acupuncture points in this study were located on the ankle and forearm at acupoints KI6 and LU7.
Many studies focus on the ability of acupuncture to reduce anxiety for specific conditions or situations. One recent study concludes that acupuncture reduces anxiety in women undergoing IVF (in vitro fertilization). A randomized-controlled study of 43 women undergoing IVF measured changes in anxiety levels. A total of four acupuncture treatments over a period of four weeks at a rate of once per week were administered. The acupuncture group received acupuncture at acupoints Yintang, HT7 (Shenmen), PC6 (Neiguan), CV17 (Shanzhong) and DU20 (Baihui). The control group received needle stimulation at non-acupuncture points near the areas of the true acupuncture points (sham acupuncture). The true acupuncture group showed a significant reduction in anxiety while the sham acupuncture group did not. The researchers concluded that acupuncture reduces anxiety and psychological strain for women undergoing IVF.
Another recent study receiving a great deal of attention is one that demonstrates that acupuncture reduces anxiety over dental procedures. In a patient-blinded randomized controlled investigation, researchers compared 182 patients. One group received true acupuncture at auricular points. The second group received sham acupuncture and a third group did not receive acupuncture or any medical procedures for the treatment of anxiety. The researchers measured anxiety levels prior to getting acupuncture and 20 minutes after receiving acupuncture, which was immediately prior to the administration of dental work. Anxiety levels in the true acupuncture group reduced significantly and but only very slightly in the sham acupuncture group. In the non-intervention group, anxiety increased. The researchers concluded that auricular acupuncture is both minimally invasive and "effectively reduces state anxiety before dental treatment."
Researchers conducted another double-blinded study and concluded that both auricular acupuncture and body acupuncture are effective in reducing pre and post-operative anxiety. Pre and post-perative anxiety has been identified in approximately 80 percent of patients, which prompted this investigation. The ear acupuncture group received needle stimulation at point ear Shenmen. The body acupuncture group received acupuncture needle stimulation at Du20, Si Shen Cong, Yin Tang, LV3 and ST36. The needles were 0.25-.30mm in diameter and ranged between 25-40mm in length. Needle depth ranged from 0.2cm to 0.5cm. Acupuncture therapy was administered for a period of four weeks at two sessions per week for a total of eight acupuncture treatments. The Traditional Chinese Medicine (TCM) treatment principles were to increase lucidity, tranquilize by nourishing the Heart, calm the nerves and regulate the Qi. Both ear and body style acupuncture were effective in significantly reducing anxiety.
References:
Gagliardi, Giuseppe, Mariarosa Meneghetti, Francesco Ceccherelli, Andrea Giommi, and Marco Romoli. "Auricular Acupuncture for Anxiety in Health Care Volunteers: Randomized Crossover Study Comparing Real and Sham Needles." Medical Acupuncture (2014).
Observation on the mechanism of acupuncture treatment for generalized anxiety disorder using Lieque (LU7), Zhaohai (KI6) as the main acupoints. Lin, Chuhua; Zhao, Xiaoyan; Liu, Xing; Fu, Wenbin. Bioinformatics and Biomedicine (BIBM), 2013 IEEE International Conference on. 18-21, 12-2-13
Effect of acupuncture on symptoms of anxiety in women undergoing in vitro fertilisation: a prospective randomised controlled study. Daniela Isoyama, Emerson Barchi Cordts, Angela Mara Bentes de Souza van Niewegen, Waldemar de Almeida Pereira de Carvalho, Simone Tiemi Matsumura, Caio Parente Barbosa. Acupunct Med acupmed-2011-010064Published Online First: 12 April 2012 doi:10.1136/acupmed-2011-01006.
Michalek-Sauberer, Andrea, Gusenleitner, Erich Gleiss, Andreas, Tepper, Gabor, Deusch, Engelbert. Auricular acupuncture effectively reduces state anxiety before dental treatment—a randomised controlled trial. Clinical Oral Investigations.  Springer Berlin / Heidelberg; Issn: 1432-6981, 1-6.
Shengjun Wu, Jie Liang, Xia Zhu, Xufeng Liu, Danmin Miao. "Comparing the treatment effectiveness of body acupuncture and auricular acupuncture in preoperative anxiety treatment." JRMS 2010; 16(1): 39-42.
Why would we put "relationship secrets" on our health-related website's blog when it seems to be more a pr0pos to a Cosmo magazine placement?  Because so many of our patients place their primary relationship at the center of their lives, and the way they relate to their partner, the quality of that relationship, has so much to do with the quality of their health and their lives in general.  So here you go, Lamorinda Healing Arts' foray into gooshy blog posts:  The Five Secrets to a Great Relationship (from Eric Barker's Blog, "Barking Up the Wrong Tree."
I've posted a lot about the research behind what makes relationships work — and not work. How can you remember what all these studies have to say?
Just keep the 5 R's in mind:
1. Right
2. Real
3. Rapport
4. Relate
5. Review
Let's break them down.
1. Fight right
You might think it would be great if you could have a relationship with zero arguing. But marriages with no arguments are 35 percent more likely to divorce.
Married couples who report they never argue with each other are 35 percent more likely to divorce within four years than are couples who report regularly disagreeing. [100 Simple Secrets of Great Relationships]
Things need to be worked out and you may need to compromise. Being rigid and resistant to new ideas increases conflict by 38 percent.
When asked to describe the state of their relationship, those with a high level of rigidity in habits and thinking — that is, a resistance to new things, new ideas, and changes of any sort — named 38 percent more problems in their relationship than those who were more flexible in their thinking. [100 Simple Secrets of Great Relationships]
Relationships with major disappointments followed by forgiveness are just as stable as ones without major disappointments.
Studies find that those who have experienced a significant disappointment from their partner and have successfully granted their forgiveness to their partner are as likely to maintain a satisfying relationship as are those who had never experienced a similar disappointment in their relationship. [100 Simple Secrets of Great Relationships]
You can't not argue and you can't fight to the death. You need to fight right.
If you stay compassionate and show you care — even in the midst of a screaming match — you have a better shot at happiness.
People who maintain a compassionate spirit during disagreements with their partner, considering not just the virtue of their position but the virtue of their partner, have 34 percent fewer disagreements, and the disagreements last 59 percent less time…

When couples experience conflict, they are 45 percent less likely to feel pessimistic about their relationship if they can recognize feelings of caring from their partner during the disagreement. [100 Simple Secrets of Great Relationships]
2. Keep it real
Do you expect a fairy tale relationship? That's a prescription for disappointment.
Elements of fairy tales such as Cinderella were present in 78 percent of people's beliefs about romantic love. Those people were more likely to have experienced disillusionment, devastation, and angst in their relationships than were those who gave less credence to fairy tales. [100 Simple Secrets of Great Relationships]
The modern day equivalent of fairy tales is TV. And as you might expect, watching too much TV is correlated with unsatisfying relationships.
People who watched an above average amount of television per day were 26 percent less likely to be satisfied with their relationship status than were people who watched a below average amount of television per day. [100 Simple Secrets of Great Relationships]
It's all about the bar that's set for you or the bar you set for yourself. So, as you might imagine, perfectionism does not make for a happy love life either.
People high in perfectionism, a hyperbelief in their own correctness and a desire to find a partner with similar traits, are 33 percent less likely to describe their relationship status as satisfying. [100 Simple Secrets of Great Relationships]
Be realistic about what you can and should expect from a relationship. And realize that things change. A third of the time what attracts you to someone isn't important to you six months later.
Researchers found that the traits that first attracted people to their partner were no longer relevant to 34 percent of them when asked six months or more after they began dating. [100 Simple Secrets of Great Relationships]
3. Have rapport
Talking, sharing, being open — these are all highly praised, and for good reason. Couples who communicate are 62 percent more likely to describe their relationship as happy.
In studies of marriages of various lengths, couples with a high degree of intimacy between the husband and wife—that is, couples who shared their innermost thoughts—were 62 percent more likely to describe their marriage as happy. [100 Simple Secrets of Great Relationships]
Expecting your partner to be a mind reader will just make you miserable. Want something? Ask for it.
Researchers found that those who are more direct in seeking support from their partner are 61 percent more likely to feel they received the support they wanted than are those who avoid explaining their needs. [100 Simple Secrets of Great Relationships]
If you're still shopping for a partner, look for someone with good social skills who has maintained friendships for a long time.
People with strong social skills, including an ability to maintain long-term friendships, were 32 percent more likely to be satisfied with their relationship. [100 Simple Secrets of Great Relationships]
More laughing means less fighting.
When both partners in a relationship thought the other had a good sense of humor, 67 percent less conflict was reported than in couples where neither thought the other had a good sense of humor. [100 Simple Secrets of Great Relationships]
Want your marriage to last more than 30 years? Just "being married" isn't enough: You also need to be good friends.
In studies of people happily married more than three decades, the quality of friendship between the partners was the single most frequently cited factor in the relationships' success. [100 Simple Secrets of Great Relationships]
4. Relate
Opposites do not attract. Couples that are similar do much better. Pairs that lasted longer than five years usually had a number of interests in common.
In comparing couples who remained together more than five years with couples who split up, researchers found that the couples who stayed together were 64 percent more likely to be able to identify multiple shared interests. [100 Simple Secrets of Great Relationships]
Having similar values offers a huge boost in the ability to communicate.
The degree to which couples have similar values does not change over the course of their relationship. Those with similar values, however, are 22 percent more likely to rate their communication habits positively. [100 Simple Secrets of Great Relationships]
Believe it or not, even having similar fighting styles was a good thing. It was related to double digit drops in conflict and a double digit increase in satisfaction.
While people may employ many different conflict resolution strategies in a relationship, when both partners use the same strategy they experience 12 percent less conflict and are 31 percent more likely to report their relationship is satisfying. [100 Simple Secrets of Great Relationships]
5. Review
Many people are probably reading this, identifying the good things they already do and feeling smug. Sorry, you can't stop there. Relationships are not a "check the box and you're done" kind of thing. You need to keep at it, monitoring and improving.
Which feelings and improvements matter most? Recent ones.
Satisfaction in a relationship is eight times more reliant on recent feelings and the ability to perceive improvements than it is based on the history of the relationship. [100 Simple Secrets of Great Relationships]
Plenty of research shows that conscientiousness is a great quality to have in a spouse or partner. Having a partner who is consistently reliable often means a healthy relationship with less conflict.
People who consider their partner conscientious, a person who consistently does what they say they are going to do, were 26 percent more likely to rate their relationship healthy and reported 41 percent less conflict in their relationship. Dependability was rated among the most desired qualities in a partner. [100 Simple Secrets of Great Relationships]
One more thing
Never forget that, in the end, all relationships are about feelings. Especially when fighting, we get caught up in the facts, the details, the words… And what's funny is little of that ends up mattering. When surveyed about their arguments, people mentioned feelings and tone 10 times as much as the topic of debate. Twenty-five percent of people couldn't even remember what the argument was about — but they all remembered how it made them feel.
Asked to describe three recent disagreements with their partner, people had 10 times as much to say about their feelings and the tone of the disagreement as about the topic of the disagreement. Twenty-five percent of people forgot the topic of a disagreement but could describe their feelings on the situation. [100 Simple Secrets of Great Relationships]
As Maya Angelou once said, "People will forget what you said, people will forget what you did, but people will never forget how you made them feel."
More than 45 million Americans (one in six) suffer from chronic headaches, 20 million of whom are women. Scientific research shows that acupuncture can be more effective than medication in reducing the severity and frequency of chronic headaches.
The pain that headache and migraine sufferers endure can impact every aspect of their lives.  A widely accepted form of treatment for headaches, acupuncture can offer powerful relief without the side effects that prescription and over-the-counter drugs can cause.
Headaches and migraines, as well as their underlying causes have been treated successfully with acupuncture and Oriental medicine for thousands of years.  Acupuncture and Oriental medicine can be used alone in the management and treatment of headaches, or as part of a comprehensive treatment program.
Oriental Medicine does not recognize migraines and chronic headaches as one particular syndrome. Instead, it aims to treat the specific symptoms that are unique to each individual using a variety of of techniques such as acupuncture, tui-na massage, and energetic exercises to restore imbalances found in the body. Therefore, your diagnosis and treatment will depend on a number of variables including:
Is the headache behind your eyes and temples, or is it located more on the top of your head?
When do your headaches occur (i.e. night, morning, after eating)?
Do you find that a cold compress or a darkened room can alleviate some of the pain?
Is the pain dull and throbbing, or sharp and piercing?
Your answers to these questions will help your practitioner create a treatment plan specifically for you. The basic foundation for Oriental medicine is that there is a life energy flowing through the body which is termed Qi (pronounced chee). This energy flows through the body on channels known as meridians that connect all of our major organs.  According to Oriental medical theory, illness or pain arises when the cyclical flow of Qi in the meridians becomes unbalanced. Acupuncture stimulates specific points located on or near the surface of the skin to alter various biochemical and physiological conditions that cause aches and pains or illness.
The length, number and frequency of treatments will vary. Typical treatments last from five to 30 minutes, with the patient being treated one or two times a week. Some headaches, migraines and related symptoms are relieved after the first treatment, while more severe or chronic ailments often require multiple treatments.
Headaches Dramatically Reduced by Acupuncture
Since the early seventies, studies around the globe have suggested that acupuncture is an effective treatment for migraines and headaches.  Researchers at Duke University Medical Center analyzed the results of more than 30 studies on acupuncture as a pain reliever for a variety of ailments, including chronic headaches. They found that acupuncture decreases pain with fewer side effects and can be less expensive than medication.  Researchers found that using acupuncture as an alternative for pain relief also reduced the need for post-operative pain medications.
In a study published in the November 1999 issue of Cephalalgia, scientists evaluated the effectiveness of acupuncture in the treatment of migraines and recurrent headaches by systematically reviewing 22 randomized controlled trials. A total of 1,042 patients were examined. It was found that headache and migraine sufferers experienced significantly more relief from acupuncture than patients who were administered "sham" acupuncture.
A clinical observation, published in a 2002 edition of the Journal of Traditional Chinese Medicine, studied 50 patients presenting with various types of headaches who were treated with scalp acupuncture. The results of this study showed that 98 percent of patients treated with scalp acupuncture experienced no headaches or only occasional, mild headaches in the six months following care.
In a case study, published in the June 2003 Issue of Medical Acupuncture, doctors found that acupuncture resulted in the resolution or reduction in the frequency and severity of cluster headaches, and a decrease or discontinuation of pain medications. It was concluded that acupuncture can be used to provide sustained relief from cluster headaches and to stimulate the body's natural production of adrenal cortisol to aid in discontinuing corticosteroids.
According to the July 2005 issue of the British Medical Journal, a randomized controlled trial in Germany found that acupuncture cut tension headache rates almost in half.  Researchers divided 270 patients who reported similarly severe tension headaches into three groups for the study. Over the project's eight-week period, one group received traditional acupuncture, one received only minimal acupuncture, and the third group received neither treatment. Those receiving the traditional acupuncture reported headache rates of nearly half that of those who received no treatments, suffering 7 fewer days of headaches. The minimal acupuncture group suffered 6.6 fewer days, and the non-acupuncture group suffered 1.5 fewer days.  The improvements continued for months after the treatments were concluded, rising slightly as time went on.
Do you or someone you know suffer from headaches or migraines?
Reach out to us to find out how acupuncture and Oriental medicine can help you!
Original article from staff of AcuFinder, here.
We believe that health is an ongoing choice, not just a thoughtless assumption. That it is a state of mind, not a label to be handed out by 'experts' or a rarefied condition of perfect balance.  That health is dynamic balance, flexibility, and most important, is measured not by your level of painlessness, but by your quality of life.
We believe that your health cannot be outsourced. You are the Chairman and CEO of your own health, the Director of your own Human Resources. That, as your own supervisor, you always have choices, and the ultimate decision about any path you take never rests with anyone but you. That you are the best judge of your own health, and what may be healthy for one person is not necessarily healthy for the next.
We believe that medical practitioners are useful and may occasionally be all that you need when things go off-track, but that if they don't 'fix' you, it is your responsibility to heal yourself.
We believe that you should be prepared to ask questions of medical authorities, not because they are wrong or don't care, but because they can never be as interested in getting you well as you are. And you should be prepared for the fact that they may indeed be wrong. After all, knowledge and wisdom are accumulated not by being correct from the outset, but by testing hypotheses, and every diagnosis you are given is simply a theory that is being tested…on you.
We believe that you are not a diagnosis, not a treatment, and that you cannot be categorized by the codes insurance companies use to name your chief complaint and decide whether or not it is worthy of being covered by your policy. That you are not a piece of meat on a table, a skin-bag full of blood to which pharmaceuticals may be added while you passively hope for the results of strange tests given by people you don't know.
We believe that "diagnosis" is simply another word to classify your symptoms, but that word does not encapsulate the experience you are having, nor does it define your prognosis for improvement.  We believe that everyone has the potential to be the exception to the rule, the aberration relative to others with the same condition, the one who bucks the trend and thrives in a way that may not have been predicted.
We believe that if you aren't confident in what someone tells you about you, that some part of you may know better. That you may need a second opinion, or third, or fourth. And that you owe it to yourself to be sure all parts of you are in agreement about any course of action where your body is concerned.
We believe that doctors, homeopaths, nurses, chiropractors, physical therapists, acupuncturists, masseuses, shamans, pharmacists, astrologers, medicine women and men, nutritionists, naturopaths, priests, Ayurvedic practitioners, psychotherapists, yoga instructors, and tarot card readers are all fine resources, but in an age where information is both powerful and ubiquitous, you have a responsibility to become an expert on your own condition.  That, when in pain (and otherwise), you should use your own power and the network of those who care about you to find out all that you can about your own situation, recommended diet, exercise, treatment options, and connect with other people all over the world who may be having the same experience.
We believe that, when you get right down to the root of it, the voice inside of you always has a positive intention, and that symptoms are not just something to be pushed aside, ignored, or "cured." Rather, they may be seen as vital communications from your body about needed action, perhaps action in some other part of your body or your life that were not getting adequate attention. Setbacks and unintended consequences may also be lifesavers, temporarily limiting you in order to save you from a more ignominious fate that you may have otherwise suffered.
We believe that you are made up of the same stuff as the earth, the sky, the plants, the clouds, the stars…but not so much of plastics and parabens and pesticides and prescription medications. That innate health is your birthright because health is being in-sync with the world around you, the seasons, the food that grows where you do. That the universe is flowing through you, and when that flow stagnates, so does your health.  That the best way to return to health is to welcome back into you what you have always been made up of.  That like engenders like, good follows good, and nature knows best.
We believe that our beliefs are universal.  That staying close to the rules and natural products of the earth are not the views of some ancient, alternative, or hippie lifestyle, but a sane and healthful way of living on this planet.  That we all know this inside of ourselves, and that these words only seem foreign when we've lost touch with our health.
From NPR, by Blake Farmer (read original here or click here for the audio)
In a fluorescent-lit exam room, Col. Rochelle Wasserman sticks ballpoint-size pins in the ears of Sgt. Rick Remalia.
Remalia broke his back, hip and pelvis during a rollover caused by a pair of rocket-propelled grenades in Afghanistan. He still walks with a cane and suffers from mild traumatic brain injury. Pain is an everyday occurrence, which is where the needles come in.
"I've had a lot of treatment, and this is the first treatment that I've had where I've been like, OK, wow, I've actually seen a really big difference," he says.
'Let's Give It A Shot'
Army doctors have been told by the top brass to rethink their "pill for every ill" approach to treating pain. For the 47,000 troops who've been wounded in Iraq and Afghanistan, some of the new options include less tried and true methods, like massage and chiropractic treatments. The military hopes to win over skeptics, many of them in uniform.
Wasserman is the top doctor for the Warrior Transition Battalion at Fort Campbell, Ky. To her own surprise, she's also now the unit's physician trained to do acupuncture.
"I actually had a demonstration of acupuncture on me, and I'm not a spring chicken," she says, "and it didn't make me 16 again, but it certainly did make me feel better than I had, so I figured, hey … let's give it a shot with our soldiers here."
In recent years, military doctors have turned to acupuncture in special pain clinics and for troops in battle zones. Last year, the Army surgeon general began making the alternative treatments more widely available.
Steering Away From Painkillers
Remalia says his headaches have disappeared, and he's relying less on his cabinet full of pain medication. To Col. Kevin Galloway, that's mission accomplished. He's in charge of carrying out recommendations from the Army's Pain Management Task Force, which focused heavily on unconventional therapies.
"You can throw fairly cheap pharmaceuticals at the problem now and push the problem to someone else later if you're not really working on what the genesis of the pain is," he says.
Galloway says if soldiers get hooked on high-powered painkillers, the Department of Veterans Affairs may be dealing with the side effects for decades to come. Already, at least 40 percent of veterans entering the VA system are coping with pain.
'Quack-Ademic' Medicine
New academic studies from places like Duke University back up acupuncture as an alternative to medication.
But Harriet Hall, a former Air Force flight surgeon, shares the skepticism found in many corners of the medical community.
"We call that 'quack-ademic' medicine when it gets into medical schools," she says.
The way she reads the science, acupuncture does no more than a sugar pill. To offer a placebo, she says, is unethical.
"The military has led the way on trauma care and things like that, but the idea that putting needles in somebody's ear is going to substitute for things like morphine is just ridiculous," Hall says.
A Chance At Normalcy
As some top medical officers put it, though, there's nothing like pain to make someone open-minded. Staff Sgt. Jermaine Louis says he's tried it all.
"Physical therapy, occupational therapy, PTSD group, anger group, stress group … everything," he says.
Louis is trying to overcome a traumatic brain injury that followed him home from Iraq five years ago. He's still dependent on medication, and the soon-to-retire infantryman says he's scared.
"[Scared] that I have to be on it for the rest of my life and [that] I will get accustomed just to taking them, and I don't want to be that way," Louis says. "I want to be normal like everybody else."
But if being normal depends on regular acupuncture treatments, the Defense Department has more convincing to do. TRICARE — the military's own health plan for service members and retirees — still doesn't cover acupuncture.
A recent issue of Time Magazine covered a bunch of info on chronic pain, and one article available online has a nice summary of the costs involved.  I was particularly intrigued by the fact that chronic pain seems to have a financial demographic as well.  To check out the whole article, click here.
From the New York Times:
For the first time since it began issuing dietary guidelines, the government offered new recommendations last month that clearly favor the health and well-being of consumers over hard-lobbying farm interests.
The new science-based Dietary Guidelines for Americans, released Jan. 31 by the Departments of Agriculture and of Health and Human Services, are comprehensive, sensible, attainable and, for most people, affordable. They offer a wide variety of dietary options to help you eat better for fewer calorieswithout undue sacrifice of dining pleasure.
Now it's up to consumers to act on this advice and put the brakes on runaway obesity and the chronic diseases that cost billions of dollars before they kill.
(Read the rest of this article on the New York Times website by clicking here…)
That's right, the computer is perhaps one of the leading causes of modern day neck, shoulder, arm and hand pain.  While we cannot magically make the pain disappear without also losing that keyboard or the stress that may accompany the time you spend on your machine, ergonomic adjustments can help to make your quality of life better over the long-term.
Patients with these issues who know me know that I often refer people to my favorite local expert in ergonomics, Deedee Savant, P.T.  Now Deedee is appearing in video online.  She just made me aware of one that's on Savantmd.com.  For more on the ergonomic adjustments that make a positive difference, check her out at SavantMD.com, and watch the video below…
paged
No more posts to load.
Load More Posts
Loading posts...
333333
link
/%postname%/
off